This section of WebFoodCulture is about the most typical side dishes from Italy and all over the world. The following articles include their history, places, ingredients, preparation, calories, pairings and many interesting facts. Let's find out the most traditional restaurants to enjoy their authentic taste.
IN THIS SECTION:
Specialties meant to accompany the main course, often made with vegetables, beans, etc.

'Cianfotta'.
Some Italian food specialties, although deriving from a common recipe, get different names and characteristics depending on the region where they are prepared. For example, the 'Cianfotta', also known as 'Ciambotta'. To explain these differences, it's necessary to remember the interesting history of this country.
(coming soon)

Italy – Section: Side dishes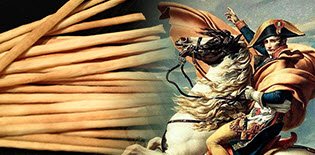 Napoleon's 'grissini'.
'Grissini', one of the most famous specialties from the Italian city of Turin, were invented a long time ago to feed a sick young prince. Napoleon, the famous French Emperor, loved so much 'le petits bâtons de Turin', to establish a courier service to have them regularly delivered to Paris. (coming soon)

Italy – Section: Side dishes


Pretzel, bread made by monks.
'Pretzel' is a type of bread very common in Germany, Switzerland, Austria and in the Adige / Südtirol area.
Read more
Even if there are no decisive proofs, its origin most probably dates back to the Medieval Period. Some think it was invented by monks: to support this theory they point out that its classic shape, the 'pretzel knot', has three holes, symbolizing the Holy Trinity.

COPYRIGHT INFORMATION

Click here.

The images bearing the logo 'webfoodculture' are copyrighted.
The following images are public domain:
(*) The copyright of this image has expired.
(**) Image released in public domain by its author.