This section of WebFoodCulture is about the most typical first courses from Italy and all over the world. The following articles include their history, places, ingredients, preparation, calories, pairings and many interesting facts. Let's find out the most traditional restaurants to enjoy their authentic taste.
IN THIS SECTION:
Specialties often based on cereals (wheat, rice, barley, etc.), for example pasta, risotto and pizza. Soups.
Couscous is generally considered the Arab specialty par excellence. Although this is not necessarily true, there is no doubt that it's deeply imbued with the charm of the desert and its people: those Berber nomads who, in ancient times, invented a food that is both easy to carry and quick to cook. (Read more)

Italia – Sezione: Pasta / First courses
Even if there are many types of fried pizza all around the world, the one from Naples has a very special flavor, coming from the nature of the place. So, it's no coincidence that Vittorio De Sica assigned to this specialty an important role in his famous movie 'The gold of Naples'.
(Read more)

Italy – Section: First courses / Street food
Not many know that 'Margherita', the queen of pizzas, perhaps takes its name from a real one: Margherita of Savoy. Could it be true? Well, it's enough to start an investigation, deepening the knowledge of the famous Neapolitan specialty. Let's study its history and recipe. Let's find the most traditional pizzeria to eat it. (Read more)

Italy – Section: First courses / Street food


Pasta Carbonara is, without any doubt, one of the most famous and representative dishes of the Italian culinary tradition. Let's find out the history of this specialty or, as it would be better to say, the large number of intriguing theories that, for years, have been trying to describe its origins. (Read more)

Italy – Sezione: Pasta / First courses


Pasta 'Bolognese'.
Even if 'Spaghetti Bolognese' is one of the most famous specialties in the world, many citizens of Bologna deny its authenticity. As a matter of fact they believe that the typical meat sauce, 'Ragù', can not be used to season spaghetti, but just 'tagliatelle' and 'lasagne' pasta. (coming soon)

Italy – Section: First courses

Sushi.
Sushi is generally considered one of the most typical dishes of the Japanese culinary tradition. Quite surprisingly, many experts claim that its birthplace is not the Land of the Rising Sun, but is located in a vast area between China and Southeast Asia.
(coming soon)
Japan – Section: First courses

'Arancini': rice oranges from Sicily.
'Arancino', also known as 'arancina', is one of the most traditional Sicilian food specialties, consisting in a stuffed ball (*1) of rice, enclosed in a crispy bread coating. Its color is quite similar to that of an orange, hence the name (*2).
There are many different types of filling, for example:

Meat and tomato ('ragù');

Butter, ham and mozzarella cheese;

Fried eggplant ('alla Norma');

Pistachios of Bronte;

Notes:
*1: It can be also conic in shape.
*2: 'Arancione' is the Italian for 'orange'.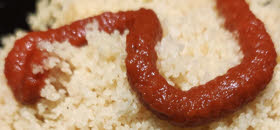 'Harissa'.
'Harissa' is a traditional sauce with a pasty consistency and an intense red color, used especially (but not only) in the countries of Maghreb (*1) to accompany specialties such as, for example, Couscous, Kebab, or as a seasoning for soups and stews.
Read more
It has a hot and spicy taste, in which the flavors of pepper, chili, coriander, cumin, and garlic stand out, namely the main ingredients with which it's prepared (*2).

Notes:
*1: Tunisia is, by far, the largest producer and exporter of Harissa;
*2: Lemon and onion are also sometimes used;

Pizza for the poors.
In Naples it may happen that the customer of a pizzeria, when paying the check, pays for one more pizza. This 'pending' pizza will be later offered to a person in need.