This section of WebFoodCulture is about the most typical street food specialties from Italy and all over the world. The following articles include their history, places, ingredients, preparation, calories, pairings and many interesting facts. Let's find out the most traditional places to enjoy their authentic taste.
IN THIS SECTION:
The most typical and traditional street food specialties from all over the world. The historic places and producers to savor the authentic taste.
Unleavened flatbread is a type of food whose origins belong to a distant past. Over time, it has evolved in many forms: 'Piadina Romagnola' is one of them. Not surprisingly, its name is closely linked to one of the Italian regions that are most interesting from a culinary point of view, Romagna. Let's find out the fascinating history of this delicacy, learn its most intimate secrets and savor its most authentic taste thanks to the precious help of the Consortium of its most traditional producers. (Read more)

Italy – Section: Street food
'Crocchè', the Neapolitan potato croquettes, are among the most typical street foods of this city. Let's find out their history and recipe. Let's visit the most traditional 'friggitorie' preparing them, so as to appreciate their original flavor. Let's taste this specialty while strolling through the 'vicoli', the fascinating alleys of the 'city of the sun'. (Read more)

Italy – Section: Street food / Appetizers
Even if there are many types of fried pizza all around the world, the one from Naples has a very special flavor, coming from the nature of the place. So, it's no coincidence that Vittorio De Sica assigned to this specialty an important role in his famous movie 'The gold of Naples'.
(Read more)

Italy – Section: Street food / First course

Some types of food are so much part of our everyday life to attract little attention. Great is the surprise finding out their true origin, involving fascinating stories and interesting people. People like George Crum, a very special cook, considered by many the 'accidental' inventor of potato chips. (Read more)

United States – Section: Street Food / Appetizers
Not many know that 'Margherita', the queen of pizzas, perhaps takes its name from a real one: Margherita of Savoy. Could it be true? Well, it's enough to start an investigation, deepening the knowledge of the famous Neapolitan specialty. Let's study its history and recipe. Let's find the most traditional pizzeria to eat it. (Read more)

Italy – Section: Street food / First course

Argentinian 'Empanadas'.
The 'Empanada' is a simple and yet delicious specialty originally from Spain, much appreciated in many countries of South America. It's often served in the 'Milongas', the tango ballrooms: the most famous are in Argentina, in the city of Buenos Aires. (coming soon)
Argentina – Section: Street food / Appetizers

Sandwich: history, info and interesting facts.
Probably not everyone knows that the word 'sandwich' comes from the name of a nobleman: John Montagu, IV Count of Sandwich. It seems that he used to eat quite a lot of them: some say to keep working at his desk, some others to keep playing his beloved sessions of golf. (coming soon)
United Kingdom – Section: Street food / Appetizers

'Arancini': rice oranges from Sicily.
'Arancino', also known as 'arancina', is one of the most traditional Sicilian food specialties, consisting in a stuffed ball (*1) of rice, enclosed in a crispy bread coating. Its color is quite similar to that of an orange, hence the name (*2).
There are many different types of filling, for example:

Meat and tomato ('ragù');

Butter, ham and mozzarella cheese;

Fried eggplant ('alla Norma');

Pistachios of Bronte;

Notes:
*1: It can be also conic in shape.
*2: 'Arancione' is the Italian for 'orange'.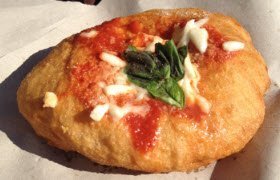 The 'Montanara' pizza.
'Montanara', one of the most traditional Neapolitan street foods, is a variation of fried pizza.
The main differences are:

The lack of stuffing;

The seasoning: consisting in tomato, provola and parmigiano cheese, leaves of basil.

The cooking: after being fried, the dough is baked.
(Read more)

Mozzarella for Margherita pizza.
The quality of mozzarella is fundamental to make the original Margherita pizza. Only a few types can be used:

Buffalo Mozzarella PDO

Mozzarella STG;

Fiordilatte PDO.

COPYRIGHT INFORMATION

Click here.

The images bearing the logo 'webfoodculture' are copyrighted.
The following images are public domain:
(*) The copyright of this image has expired.
(**) Image released in public domain by its author.