This section of WebFoodCulture is about all those 'food places' that, during time, distinguished themselves so much to become part of the imagination of every true gourmet. The following articles include their history, their land, their people, their exquisite specialties and many interesting facts.
IN THIS SECTION:
Historic food places: restaurants, bars, shops, etc. 'Temples of taste', so rich in charm to infuse part of it in their own specialties.
There are places where food, no matter how delicious, manages to acquire additional, unexpected flavor: places like 'Ballotta', a 'trattoria', serving traditional specialties since the XVII Century to all kind of customers. Among them, very famous people such as Galileo Galilei … and many others! (Read more)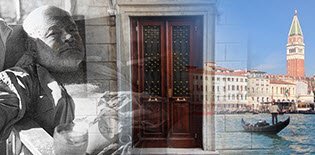 Harry's Bar is a fascinating place, rightly part of the collective imagination. Over the years, thanks to its customers and their stories, this bar has developed a soul of its own. Two delicious specialties have been invented within its walls: the 'Bellini' and the 'Carpaccio'.
(Read more)

Italy – Section: Historic food places / Veneto / Venice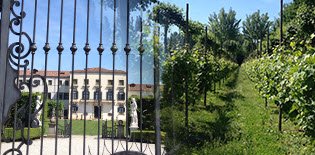 There is a place where emotions from a time past, art, culture and taste, seem to blend. A beautiful, ancient villa in the Italian countryside becomes the source of feelings that inevitably ignite inspiration. It's here that the Friularo wine was born, the fruit of a sensibility slowly acquired over the centuries. (Read more)

Italy – Section: Historic food places / Beverages

Empanadas in a Milonga.
The 'empanada' is a simple and yet delicious specialty originally from Spain, much appreciated in many countries of South America. It's often served in the 'milongas', the tango ballrooms: the most famous are in Argentina, in the city of Buenos Aires. (coming soon)
Argentine – Section: Historic food places / Street food / Appetizers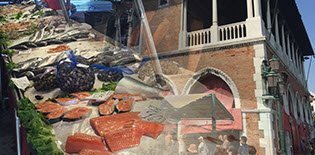 'Pescheria': the Venetian fish market.
One of the most interesting places in Venice is the ancient market near the bridge of Rialto. The 'pescheria' is the part of this market devoted to fish trading. It's hosted in a beautiful structure built in the early 1900s.
(coming soon)



The Venetian 'Bacari'.
Strolling through the 'calli', the narrow alleys of Venice, it's quite easy to come across a 'bacaro': a small tavern, very noisy and lively, where it's possible to spend some time enjoying the company of the nice and colorful local people. In a traditional bacaro are usually served wine and very tasteful appetizers, also known as 'cicchetti'. (coming soon)

COPYRIGHT INFORMATION

Click here.

The images bearing the logo 'webfoodculture' are copyrighted.
The following images are public domain:
The header images are public domain:
(*) The copyright of this image has expired.
(**) Image released in public domain by its author.